Many people today are still working from home, and some are shifting back to the office. And still, we find ourselves working from home, and it has its benefits and challenges, let's be honest. 
Setting up the ideal home office environment can boost your workflow and keep you focused on what matters most. Creating an organized workspace with a few steps can go a long way in transforming your work-from-home arrangement into an efficient and enjoyable space.
In this guide, our experts explore what you need to know to set up a functional and comfortable home office, including pro tips to make the most out of your home office.
So whether you're working nine to five or around the clock, let's get started on your ultimate home office. 
Home office essentials
To create a productive and efficient working environment while at home, there are several essentials to consider to maximize the working experience. 
It is important to have a workspace set up in an area of your home that has adequate lighting, as well as enough space to move around and spread out when necessary. Furniture such as a desk and comfortable office chair are important pieces of equipment for any home office. Adding plants, artwork, and other personal items to the area can help bring in some warmth and make it feel cozier. 
Having reliable tech items on hand is necessary for any successful home office setup. A computer with enough storage space, along with a fast internet connection can provide an ideal environment for work. 
Additionally, having multiple monitors will allow for multitasking or separate workspaces for different activities. Investing in a quality printer with scanning capabilities can help with physical documents whenever needed.
When working from home, it is important to stay organized by utilizing shelves or cabinets to store papers or other documents away from dust or spills. A filing cabinet is also necessary for keeping papers secure throughout the workday or week. Using organizers such as trays or folders on top of desks will help keep items sorted so there isn't clutter on the desktop surface at all times. Keeping everything organized makes it easier to find what you need when needed. 
Finally, even if you're tech-savvy the old-school office supplies such as pens, paperclips, and staplers, sticky notes can come in handy around your home office.
Ergonomic setup
Setting up your home office with ergonomic furniture is an important part of creating a comfortable and healthy environment. An ergonomically designed desk will help reduce the risk of back and neck pain, as well as general fatigue. Similarly, an ergonomic chair can help reduce muscle tension and improve posture while seated. Below are some tips for setting up the perfect home office: 
When selecting a desk, try to find one that is both height adjustable and tiltable. This will allow you to customize an ergonomic setup specific to your body type and size. An adjustable desk that allows working while standing is also highly recommended.
Consider purchasing an adjustable keyboard tray and an ergonomic keyboard for optimal comfort and support. For large desks, it's best to have at least one separate area designated for the computer monitor to prevent glare from overhead lights or windows. The surface of the desk should be made out of materials such as wood or plastic that are easy to keep clean and free from dust buildup. 
Ergonomic chairs come in many different styles, sizes, and colors so it's important to take some time when selecting the right one for you. Look for adjustable features like armrests and lumbar supports for individual needs. When sitting in a chair, ensure that your feet are flat on the floor with your legs slightly angled away from your body at 90-110 degrees while your arms should rest at 90 degrees about the keyboard or mouse. 
If the seats don't provide adequate lower back support, use a pillow or cushion behind your lower back for added comfort during long stretches of sitting down.  
Make sure your workspace is well-lit so you won't strain your eyes when looking at digital screens for long periods throughout the day. Natural light coming in through windows can be beneficial but try supplementing this with adjustable task lighting like lamps placed strategically around the room based on where you spend the majority of yours. 
Additionally, try to incorporate indoor plants around your home office space. This improves indoor air quality and reduces possible allergies or respiratory issues caused by dust particles circulating through air conditioning systems over time. 
 
Following these simple steps will have a positive effect on both physical and mental health. It will help you stay productive without feeling uncomfortable or distracted during working hours.

4.3 out of 5 stars
1,285 ratings
According to our experts, the SIDIZ T50 ergonomic chair is a high-quality and well-designed chair that offers a wide range of features to support good posture and comfort during long periods of sitting. 
The chair is designed with a mesh back and cushioned seat. The adjustable headrest and 2-way lumbar support provide excellent neck and back support, and the 3-way armrests allow for comfortable arm positioning while typing or using a mouse. The cushion seat provides ample padding for extended sitting, and the mesh back allows for airflow to keep you cool during hot days.
The forward tilt option allows you to lean forward for closer work, and the adjustable seat depth accommodates different leg lengths. The chair's height is also adjustable, allowing you to find the perfect position for your workspace.


4.4 out of 5 stars
1,528 ratings
The COOline ErgoPro Ergonomic Office Chair offers 4D adjustable armrests, 3D lumbar support, and blade wheels to provide users with maximum comfort and support during long periods of sitting. That is why it's favored by our experts and by users.
The chair has a durable mesh material that is both breathable and flexible, ensuring that the chair conforms to your body shape while maintaining proper ventilation. It also helps prevent sweating and discomfort, ensuring you stay comfortable throughout your workday.
The chair features an adjustable headrest, allowing you to rest your neck and head comfortably while working. The chair's 3D lumbar support is adjustable to provide optimal support for your lower back, reducing the risk of pain or discomfort. The 4D armrests can be adjusted in height, width, depth, and angle, ensuring that your arms are supported in the correct position for your body.
The blade wheels of the chair ensure a smooth rolling motion across the floor, allowing for easy movement around your workspace. 
4 out of 5 stars
17,776 ratings
According to our experts, the Hbada Home Office Chair Work Desk Chair is the perfect blend of comfort and ergonomic design while still remaining cost-effective at under $120. 
The adjustable height allows you to customize your seating position to fit any desk or workstation, while the flip-up arms provide added support for those long hours you sit and work. 
The ergonomic design ensures proper posture by providing full lumbar support, reducing back strain, and increasing productivity. Its sturdy construction makes it steady, and its 360-degree swivel base gives you complete freedom of movement without compromising your stability. 
4.3 out of 5 stars
3,748 ratings
Our experts find the Coleshome 59" L Shaped Gaming Desk is a great option for your home office or workstation. Its modern design adds style to your space, and its structure ensures it will last long.
With a larger surface area than standard desks, this desk can accommodate multiple monitors or other equipment. 
The stable powder-coated steel legs also provide improved stability and minimize wobble during active use, making it ideal for intense when you switch from work to game mode. Overall, this desk provides superior comfort and efficiency for working and gaming. 
4.5 out of 5 stars
6,467 ratings
According to our experts and users, the FEZIBO Electric Standing Desk is what you need for your home office. With its 55 x 24 Inches surface, you'll have plenty of space for your work setup. 
Its adjustable height and ergonomic design make it a perfect choice for anyone looking to improve their productivity. The splice board provides additional strength and stability.
The black top provides an aesthetic look to the desk and it can fit any room or office decor. Additionally, its motor lifts up to 176 pounds so you can be sure all of your equipment is safe and secure at all times.


4.6 out of 5 stars
6,079 ratings
According to our experts, the Logitech Ergo K860 Wireless Ergonomic Keyboard and MX Vertical Wireless Mouse are a winning combination if you seek comfort and productivity during long hours of computer use. 
The keyboard is designed with a split layout and a curved wrist rest, promoting a more natural typing posture to help reduce strain on your wrists and forearms. 
The keys are responsive and have satisfying tactile feedback, and the keyboard's sloped design allows easy and comfortable access to all keys.
The vertical mouse is designed for a more natural hand position, reducing wrist tension and providing a comfortable grip. The mouse has a high-precision sensor for smooth and accurate tracking, and its customizable buttons and scrolling wheel offer great flexibility for different user needs.
4.3 out of 5 stars
4,175 ratings
The Microsoft Sculpt Ergonomic Wireless Desktop Keyboard and Mouse are chosen by experts and users, for a comfortable and efficient working experience. 
The keyboard and mouse are ergonomic and designed for a more natural and relaxed pose, relieving pressure from your wrists and forearms. The keyboard has a split design and a cushioned palm rest to keep your wrists in a cozy position while typing. The mouse also features an ergonomic design with a sculpted shape to fit comfortably in your hand.
The wireless connectivity makes it easy to use the keyboard and mouse without the clutter of cords, and the setup is simple.

Laptop & PC
Considering a laptop or desktop computer for your home office can be a significant decision that can impact your productivity and comfort. Here are some factors to consider when choosing a home office laptop or computer:
Budget: The first thing to consider is your budget. Determine how much you are willing to spend on a laptop or desktop computer. You can find many options in different price ranges, so you have to decide how much you want to invest and how much you can invest. 


Usage: Think about what you will be using the laptop or computer for. Will you be using it for basic tasks like word processing and browsing the internet, or will you be using it for more demanding tasks like video editing? Your usage will determine the type of processor, RAM, and the graphics card you need.


Size: Consider the size of the laptop or computer. If you need to be mobile, a laptop would be more convenient. If you plan to have a dedicated workspace, a desktop computer could be a better fit.


Screen size: If you choose a laptop, consider the screen size. Larger screens are better for multitasking, but they can also make the laptop heavier and less comfortable to carry around. A smaller screen might be more convenient for travel, but it can also limit your work area.


Operating System: Consider the operating system you prefer. Windows, macOS, and ChromeOS are the most common. Best to choose the one you are used to.


Storage: Look for a computer with enough storage for your needs. Working with heavy files means you may need a larger hard drive or solid-state drive. Consider using external hard drives or cloud storage services for storage. 


Connectivity: Consider the connectivity options you need. For example, if you need to connect to other devices, check the laptop or desktop has enough ports.


Battery life: If you prefer a laptop, consider the battery life. If you plan to work away from your desk, look for a laptop with long battery life, it will be more convenient. 
In the end choosing a laptop or desktop computer should meet your specific needs and fit your budget.
Our experts find that Apple's latest addition to its MacBook Pro lineup, the 2023 MacBook Pro with M2 Pro chip is a powerful and innovative laptop. 
It can deliver exceptional performance for demanding applications, creative work, and gaming. The 14.2-inch Liquid Retina XDR display offers brilliant and vivid colors, with high contrast and brightness. 
The 16GB unified memory and 512GB SSD storage ensure smooth and efficient multitasking and data handling, perfect for working remotely and for your home office.
It also works seamlessly with iPhone/iPad devices and has strong performance and a high user experience.
The Lenovo Legion 5 Gaming Laptop is a powerful and feature-rich device that can handle demanding tasks and provide an exceptional user experience. Its powerful processor, high-quality graphics, large display, backlit keyboard, Wi-Fi 6, Windows 11 Pro, and included SnowBell USB Card make it a perfect choice for professionals like you, who need a reliable and powerful laptop for your home office. 
Our experts find the powerful performance of this laptop very useful, it provides high-speed processing for multitasking and demanding applications. The pre-installed Windows 11 Pro provides advanced security features and performance improvements compared to earlier versions of Windows.

The large display gives you a clear workspace and the backlit keyboard is helpful when working during the night or in a dimly lit environment. 
4.5 out of 5 stars
3,9491 ratings
According to our experts, the Acer Aspire 5 A515-46-R3UB is a budget-friendly laptop. It o decent performance and features that make it suitable for a home office setup. 
The laptop comes with Amazon Alexa, enabling you to use voice commands to play music, set reminders, and control other compatible smart home devices.
Windows 11 Home in S mode provides a streamlined and secure operating system. You can easily switch out of S mode to install and use additional software. This basic laptop is a good option for a reliable and affordable laptop for your home office.
Monitor & Stands
After deciding on a laptop or PC, the next step is to consider a monitor and a stand. 
A monitor allows you to view your work on a large comfortable screen, reducing eye stress and improving your posture. A stand can help elevate your monitor or laptop to a more ergonomic height, reducing neck and back strain.
The main difference between a monitor and a stand is its function. A monitor is a display screen that allows you to view your computer's output. 
A stand elevates the monitor or your laptop to a more comfortable viewing height. Some stands offer additional features such as cable management, adjustable height, and tilt angles.
Both are important for your home office setup as they can improve your work experience and reduce physical strain.
4.3 out of 5 stars
666 ratings
According to our experts, the Z-Edge 27-inch Curved Gaming Monitor is a very useful addition to any home office. The curved screen design provides an immersive visual experience, making it easier to concentrate on your work or gaming tasks. 
The monitor refresh rate provides your monitor updates quickly, making it perfect for working and for gaming, or other fast-paced tasks. The Eye-Care technology is also a significant advantage, reducing eye strain and allowing you to work for long hours comfortably.
The 178° wide view angle delivers excellent viewing angles from any position, allowing you to share your screen with others. Additionally, the built-in speakers and VGA+HDMI connections provide convenient audio and video playback options.
4.7 out of 5 stars
3,241 ratings
The ASUS VP249QGR 23.8" Gaming Monitor is an exceptional choice if you are looking for a high-quality and affordable monitor for your home office. Our experts find its enhanced visual experience, reduced eye strain, fast response time, compatibility, and cost-effectiveness make it a highly desirable option for professionals and gamers.
The fast response time means the monitor provides minimal input leg making it ideal for tasks that require precise and quick responses. The monitor features multiple connectivity options, including DisplayPort, HDMI, and VGA so it's compatible with a wide range of devices.
4.6 out of 5 stars
1,919 ratings
If you are setting up your home office or looking to improve your home office, the Dell 24-inch Monitor SE2422HX with its features designed to improve productivity and comfort during long work hours.
Our experts find the FHD resolution provides a clear and sharp display for working on documents, spreadsheets, or presentations. The comfortable view helps to reduce eye strain and fatigue so it is easier to work for an extended time. 
The monitor has an anti-glare screen with 3H hardness, which helps to reduce glare and reflections from external light sources. This feature ensures you can work comfortably even in brightly lit environments.
The wide color gamut provides a vivid and accurate color representation, this feature is important for graphic designers or video editors, or any other job where you need real color presentation
Cables
Setting up a home office requires several cables to connect your devices to the internet. Here are some basics cables you may need:
Power cables - Are used for your computer, monitor, printer, and other devices that require electricity.
Ethernet cables - Allow you to connect your computer or laptop directly to your router for a more stable and reliable internet connection. You may need to purchase a longer Ethernet cable if your router is far from your workspace.
HDMI cables - If you have one monitor or more, you will need an HDMI cable to connect to your computer.
Display Port cables - Similar to HDMI cables, they allow you to connect your computer to a monitor.
USB cables - Connect your computer to your mouse, keyboard, printer, and other devices that use USB.
Audio cables - If you have speakers or a headset, you may need an audio cable to connect them to your computer.
Extension cords and surge protectors - Depending on the layout of your workspace, you may need extension cords to reach outlets, and a surge protector to protect your devices from power surges.
Not sure which cables you need? It all comes down to your home office setup and your devices. Check each devise's requirements and the workspace setup and decide which cables are required. 
Additional equipment 
A few more essentials to get your home office to perfection: 
A printer allows you to quickly print out documents or photos when needed. Assuming this is part of your job routine, purchasing a good-quality printer will help you do your job from your home office. 
Having a scanner is also useful if you often receive documents and need to store them digitally or send them off again. Scanning paperwork into digital formats is much faster than entering the data by hand and makes it easier to keep all of your files organized and accessible when needed. 
Finally, having a good set of headphones can be incredibly beneficial when working in your home office. It will help reduce outside noise and allow you to concentrate better on your tasks.
Listening to music through headphones can also provide motivation and inspiration when tackling difficult tasks or brainstorming for ideas at work and can help on those long meetings and calls. 
 It's important to invest in good quality headphones so the sound won't be distorted or too quiet. 


4.1 out of 5 stars
138 ratings
According to our experts, the HP Smart-Tank 7001 Wireless All-in-One Cartridge-free Ink-Tank Printer is a reliable printer for your home office. 
This printer offers up to two years of ink included, which is a significant cost-saving compared to traditional inkjet printers. The ink tanks are easily refillable, and the printer's technology allows users to monitor ink levels.
The printer is easy to set up and can be connected to a wireless network, enabling mobile printing, scanning, and copying from any device. 
The high-quality print resolution and fast printing speed produce clear and crisp prints, making it ideal for printing documents, photos, and graphics.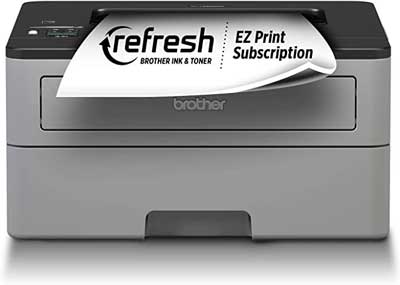 4.4 out of 5 stars
11,340 ratings
According to our experts, the Brother Compact Monochrome Laser Printer, HL-L2350DW, is exactly what you need for your home office. This printer offers wireless printing capabilities, allowing you to print from your computer or mobile device without the need for cables. 
The duplex two-sided printing feature is also a significant advantage, allowing you to save on paper and reduce waste.
One of the best features is the Refresh Subscription and Amazon Dash Replenishment Ready. This allows the printer to automatically order toner when it is running low, ensuring that you never run out of toner when you need to print. The subscription service is also customizable, so you can choose how often you receive toner.
4.5 out of 5 stars
6,229 ratings
The Sony WH-XB910N Extra BASS Noise Cancelling Headphones were found as a premium option by our experts and users. 
These headphones offer high-quality noise-cancellation technology, allowing you to concentrate while working from home and tuning out the outside noise. You can connect the headphones to your computer or other mobile devices by using the wireless Bluetooth feature with just a few simple steps.
The long battery life allows you to work for a long period without the need to recharge. The microphone and Alexa voice control feature allow you to take calls and control your audio playback hands-free, making them convenient to use during work meetings and calls.
The extra bass feature enriches your audio experience, making them perfect for listening to music, your playlist, or your favorite podcast, to ease your mind while working. 

4.5 out of 5 stars
1,354 ratings
The JBL Live 660NC wireless over-ear noise-canceling headphones offer superior noise-cancellation technology. This feature will come in handy when you're working from home, trying to focus on your work without getting distracted by outside noise.
The long-lasting battery life of up to 40 hours ensures that you can use them for an extended period without the need to recharge. 
The headphones also come with a built-in voice assistant, making it easy to control your audio playback and manage calls hands-free.
With comfortable fit and easy-to-use controls, these headphones are a must-have when you're working from home and looking for a high-quality audio experience.
4.4 out of 5 stars
1,900 ratings
According to our experts, the Soundcore by Anker Space Q45 Adaptive Active Noise Cancelling Headphones is an impressive audio device designed to deliver exceptional audio quality and noise reduction capabilities. With the ability to reduce noise by up to 98%, these headphones create an immersive audio experience that lets you enjoy your music without any outside noise distractions and can help you work at home and keep the noise out.
One of the best features of these headphones is their 50-hour playtime. This allows you to enjoy your music for extended periods without worrying about running out of battery. 
The app control feature lets you customize the headphones to suit your preferences, which is an added advantage. The headphones have a comfortable fit that is perfect for extended use, and the clear calls feature ensures that your phone calls are of high quality.

Pro tips
Here are some pro tips for you to improve your home office:
Declutter your workspace: A cluttered workspace can be distracting and reduce productivity. Make sure to keep your workspace organized and clutter-free.


Use a white noise machine or noise-canceling headphones: If you live in a noisy environment, a white noise machine can help drown out distractions and create a more peaceful work environment. Or you can buy noise-canceling headphones that do the trick and keep the noise away. 


Create a routine: Establishing a routine can help you maintain a work-life balance and stay productive. Set specific work hours and take regular breaks to avoid burnout.


Set boundaries: It's important to set boundaries with family members, roommates, or friends to avoid interruptions during work hours. 
By following these tips, you can create a comfortable and productive home office, achieve your work goals, and gain peace of mind. 
Conclusion 
Setting up your home office doesn't have to be hard. After spending some time planning and researching the right furniture, equipment, and supplies for your workspace, you'll find that the goal is possible. 
We hope our experts guide will do just that - guide you through creating the perfect home office space for you so you can achieve success in your job.