If you have been outside on a warm day, basking in the sun with a cold drink and food grilling nearby, or having friends over on a spring night, then you already understand the appeal of an outdoor kitchen. 
With a well-designed outdoor kitchen, you can enjoy the comfort of cooking and dining in the open air. Whether you are a seasoned chef or a casual cook, an outdoor kitchen provides the perfect space for grilling, baking, and entertaining. 

In this guide, our experts will walk you through all the information you need, from how to build an outdoor kitchen, to choosing the right location and planning the design to selecting the right equipment and materials. 
Whether you opt for a simple setup or a luxurious one or hire contractors or decide to do it yourself, what's called a DIY outdoor kitchen style, fully-equipped outdoor kitchen, the result will be a space where you create memorable meals and experiences with family and friends.

How to Build an Outdoor Kitchen from Scratch
Building an outdoor kitchen from scratch can be a thrilling and rewarding task. Before beginning, it is important to determine what kind of outdoor kitchen you want, how much space you have available, and how much money you are willing to spend.
The first step in building an outdoor kitchen is to create a plan for the design and layout of the kitchen. This will help you determine what type of materials, appliances, and features should be included in the design. Consider factors such as whether or not you would like a built-in grill ,stovetop or gas-grill and if you wish to add a pizza oven and a kitchen island.
If you need any special utilities such as electricity or water lines, and if there is enough room for seating areas. Additionally, think about where certain items will be stored, cabinets or concrete countertops, all to make sure that everything has adequate space.
Once you establish the design plan, it's time to prepare the area for construction. Clear away all debris or vegetation, level off any irregularities in the ground surface, lay down a solid foundation of pavers or other hardscape material if desired, and install any necessary utility lines. It is also important to install some kind of waterproofing membrane beneath any permanent structures to protect against rain damage.
Next comes the actual construction process itself. Begin by assembling the frame for your outdoor kitchen with treated lumber or metal framing materials depending on your preferences and budget. 
Once this frame is built securely in place then add in walls using pre-cut panels made from stone veneer siding or brick masonry block – again depending on your aesthetic preferences. After this is done add insulation between wall cavities to prevent heat loss during colder seasons if desired. 
Now that your walls are set up it's time to begin the installation of appliances like grills, cooktops, ovens, etc., along with countertops made from materials like granite or concrete that can withstand extreme temperatures without cracking or discoloration over time due to frequent use outdoors; do not forget to install vent hoods above all cooking appliances as well for safety reasons. 
Finally, add perimeter lighting strings such as post lanterns or LED recessed lights around your outdoor kitchen for ambiance and visibility at night when entertaining guests outdoors after dark. 
Types of DIY Outdoor Kitchens
You can find 3 main types of DIY Outdoor Kitchens:
Built from Scratch: Building a DIY outdoor kitchen from scratch is the ultimate DIY project. You will need to plan, design, and obtain construction skills to create an aesthetically pleasing and functional kitchen space. 

If you choose this type, the first step is to determine where the kitchen should be located on their property. Then you need to consider which materials are best suited for the project and what appliances and components you should use. 

Once you complete these preliminary steps, the construction process can begin. To build a kitchen from scratch, you may need to dig trenches or holes for plumbing lines or electrical systems. 
You might also need to pour concrete footings and level off the ground in preparation for building walls or erecting pergolas or other structures. In addition, you will likely need to install cabinets, countertops, sinks, faucets, lighting fixtures, and more.
Ready-to-Finish (RTF) Outdoor Kitchens: Ready-to-finish outdoor cooking kitchens provide you with everything you need to customize your outdoor space without having to start from scratch. As its name implies, an RTF kitchen comes with pre-constructed components designed for easy assembly and finishing. 
Typical RTF kitchen kits include detailed instructions on how to assemble each component and how to secure them together. Depending on the specific model of the RTF outdoor kitchen kits, it may come with cabinetry pieces that are ready to be stained or painted along with countertop pieces that can either be left unfinished or tiled over with materials of choice. 
Ready-to-Assemble (RTA) Outdoor Kitchens: Ready-to-assemble (RTA) outdoor kitchens offer DIYers a great way to save time while creating the perfect backyard getaway. Unlike RTF kits which require some additional finishing work before installation is complete; RTA kits come with all necessary components preassembled in one package for quick installation once delivered. 

Most of these kits come with detailed instructional guides to assemble components like cabinets and drawers much faster than done from scratch – usually taking only minutes rather than hours or days.
Additionally, RTA kits can save you money because of their lower cost compared to fully constructed units when purchased online or at home improvement stores. 
Furthermore, installing an RTA kit can often result in a finished product that looks exactly like a custom-built model - just on a lower budget.
What You'll Need
Here is what you need to start your DIY outdoor kitchen:
Equipment/Tools: You'll need a few different pieces of equipment and tools. This could include an outdoor grill station or smoker, a sink, any necessary plumbing supplies and pipes, a portable refrigerator or cooler to store food, as well as grilling utensils like tongs and spatulas. 

You'll also want to invest in some all-weather furniture like chairs and tables if you plan on having guests over. 
Additionally, it would be beneficial to have cooking gadgets such as an outdoor fired pizza oven or a flat-top griddle so that you can cook anything from pizzas to burgers.
Materials: When it comes to materials for your DIY outdoor kitchen, there are many options available. For the foundation of your kitchen area, consider installing concrete pavers or flagstone tiles onto the ground.
You can use these materials to create pathways around the kitchen area and be creative with patterns when laying them down. The decking material is another popular option for building around the kitchen area as it's easy to install and looks great when finished. 
If you must build your entire kitchen on grassy areas then using pressure-treated lumber is a good choice as it's rot-resistant and will last longer outdoors than regular wood.  
Additionally, if you want more counter space then opt-in for granite countertops which are durable and aesthetically pleasing with their natural shimmering look. 
Lastly, waterproof fabric such as canvas is ideal for making shade covers that will keep both you and your guests cool during hot summer days while still allowing a view of nature from the comfort of your outdoor living space.
Equipment / Tools
Here is a complete list of the items you should have ready before you take on DIY outdoor projects:
First, start with a good set of hand tools. You should include a hammer, screwdrivers (flathead and Phillips head), pliers, adjustable wrenches, snips, utility knife and blade, chisels, saws (handsaw and coping saw), files, awl, and punches. 
Next, consider adding power tools to your set. These could include drills (corded or cordless), an angle grinder for grinding metal or other materials, an orbital sander for smoothing surfaces, a circular saw for cutting into wood or other materials quickly and easily, and a jigsaw or band saw for intricate work. 
For tasks such as demolition or removing nails and screws from lumber or other materials, you may also want a pneumatic nailer/stapler or air impact wrench/driver/gun. 
You might need to invest in concrete tools like trowels and floats; finishing trowels with grooves for creating textured surfaces; masonry bits for drilling into concrete; reciprocating saws specifically designed to cut through metal objects such as pipes; rotary hammers designed to drill through masonry quickly and efficiently; tile cutters specifically designed to cut ceramic tile; welding torches for joining metal pieces together; pressure washers which can apply water pressure up to 3100 pounds per square inch to clean stubborn dirt off surfaces quickly; post hole diggers and augers which can dig up soil easily at various depths; and spray guns which provide higher efficiency when painting areas that need additional coverage. 
Finally, don't forget about safety gear. You should always wear safety goggles when using power tools or working with hazardous materials such as chemicals or solvents. Ear protection is also important when using loud power tools like lawnmowers and chainsaws. 
Other equipment such as dust masks, will help protect you from breathing in potentially harmful particles during activities like grinding or sanding. 
In addition, use knee pads when kneeling for long periods of work, especially if it involves hard surfaces that can cause soreness over time without protection. And also, use gloves whenever necessary - they will help keep your hands clean while protecting them from sharp edges while handling rough materials like wood boards or cement board or fiberglass insulation.
Prepare the Base
Here are the basic steps you need to take and prepare for your DIY outdoor kitchen: 
Choose a level area close to your home that has access to electricity, water, and gas (if needed). The site should be protected from the wind and provide enough space for the outdoor kitchen and any additional features you want to add, such as a seating area or a fire pit.


Prepare the ground - You should clear the area of any debris and weeds. Then, level the ground and compact it. You can add sand or gravel to the area if necessary to create a solid base for the outdoor kitchen.


If you want a permanent outdoor kitchen, consider pouring a concrete slab. A concrete slab provides a solid foundation and is more durable than a wooden deck. To create the concrete slab, first, dig a trench around the area you want to cover and fill it with compacted gravel. Then, pour concrete into the trench, smoothing it out to create a flat surface.


If you prefer a deck for your outdoor living kitchen, choose a sturdy and weather-resistant material such as pressure-treated lumber or composite decking. Make sure to install the deck on a solid base and secure it with screws or brackets to prevent it from moving or collapsing.


To install appliances or equipment for your outdoor living space, such as a grill or sink, build a base to support them. You can use concrete boards, bricks, or pavers to create a sturdy and level base for each appliance. Make sure you have enough space around each appliance for adequate ventilation and ease of use.



Run the Utility Lines
The steps you need to take to run the utility lines for DIY outdoor kitchen:
Electricity: To use electrical appliances or lighting in your outdoor kitchen, you'll need to run an electrical line from your home's electrical panel to the outdoor kitchen. This is a job for a licensed electrician to ensure the work is done safely and meets all building codes and electrical safety standards.


Water: You probably need to install a sink or use a refrigerator so you'll need to run a water line from your home's plumbing system to the outdoor kitchen. You can use flexible PVC pipes to make this connection or you can go for a more permanent solution such as copper pipes.


Gas: If you plan to use a gas grill or a gas-powered natural gas appliance, you'll need to run a gas line from your home's natural gas or propane tank to the outdoor kitchen. This is another job that should be done by a licensed professional to ensure the work is done safely and meets all building codes and safety standards.


Drainage: If you plan to install a sink or any appliance that requires a drain, you'll need to provide proper drainage. You can use a floor drain or install a sink with a built-in trap. Make sure to connect the drain to your home's plumbing system or an underground septic system if you don't have access to the city sewer.


Pro-tip: Keep in mind that running utility lines for an outdoor kitchen is a complex job. Be sure to hire a licensed professional. Never attempt to run any utility lines yourself unless you have the proper training and experience.
Build a Shelter Structure
Here are the steps to build a shelter structure for a DIY outdoor kitchen:
Location: Decide on a suitable location for your outdoor kitchen, taking into consideration factors like privacy, shade, and proximity to your home.


Plan the design: Determine the size and shape of your shelter, and decide what features you want to include, such as a roof, walls, or floor.


Gather materials: You'll need building materials such as lumber, screws, nails, roofing material, and any additional hardware you need for your specific design.


Build the foundation: Start by preparing the ground and laying a solid foundation for your shelter.


Assemble the frame: Cut and assemble the frame for your shelter. Be sure to use proper techniques to ensure stability.


Install the roof: Put up the roof by installing rafters and attaching the roofing material or by using pre-made trusses.


Add walls: Install the walls by using lumber and screws.


Finish the structure: By adding features, such as a floor, or by painting or staining the wood to match your outdoor decor.


Install your kitchen equipment: Finally, add your outdoor kitchen equipment, like a grill, sink, and countertop, and you're ready to cook and enjoy your new outdoor dining area.


Install Cabinets and Countertops
Installing cabinets and countertops is part of completing your DIY outdoor kitchen. Here are the steps to follow:
Measure the space where you plan to install the cabinets and countertop, including any obstacles such as electrical outlets or windows.


Purchase the cabinets and countertop that fit your style, budget, and space requirements.


Install the cabinets: Mount the cabinets to the wall or structure. Be sure they are level and secure.


Cut the countertop to the correct size - Be sure to consider any obstacles or curves in the area.


You can attach the countertops to the cabinets. You can use silicone adhesive or screws to ensure a secure connection.


Finish: Add handles or knobs to the cabinets, and add any finishing touches to complete the look of your outdoor kitchen.


Complete the Utility Work, Install Appliances
Completing the utility work and installing appliances is the final step in building your outdoor kitchen. Here's what to do:
Utility work: Install any necessary plumbing and electrical lines, such as a water source and electrical outlets, to support your outdoor kitchen appliances.


Select the appliances you want to include in your outdoor kitchen, such as a wood fired or grill island, refrigerator, sink, and dishwasher.


Install appliances: Mount the appliances in place, following the manufacturer's instructions and ensuring they are properly secured.


Test appliances: Test each appliance to make sure it is working properly and make any necessary adjustments.


Clean up: Clean up the work area, dispose of any debris, and tidy up around your outdoor kitchen.
Now, you should have a fully functional outdoor kitchen for your family and friends to enjoy together. 
Create (and Accessorize) an Outdoor Dining Area
Completing your outdoor dining area and accessorizing it can help create a cozy and inviting space for you, your family, and your friends. 
First, go for the essential outdoor patio furniture, such as a table and chairs, preferably weather-resistant and durable for outdoor use. Consider adding a few comfortable seat cushions or pillows to make the dining experience more enjoyable. Accessories like tablecloths, placemats, and outdoor dinnerware can add a touch of elegance and style to your setup. 
Ambient lightings, such as string lights or candles, can help create a warm and cozy atmosphere. Finally, don't forget to add some greenery, such as potted plants or a small herb garden, to bring nature closer to your outdoor dining area.
According to our experts, the MCP Island Grills Black Stainless Steel 6 Burner 2 Modular Piece Marble Top BBQ Outdoor Electric Propane Grill Kitchen is the ultimate outdoor cooking solution. 
This grill is equipped with features such as a built-in refrigerator, sink, side burner, and LED lights on the knobs that add a stylish touch to the cooking experience. 
The protective cover keeps it safe from the elements, ensuring it remains in top condition. If you are looking for a high-quality outdoor cooking solution, this one is for you. 


The Mont Alpi MAi400-DFC 32-Inch 4-Burner 78000 BTU Deluxe Stainless Steel Gas Outdoor Kitchen Bar Barbecue Island Grill is a great cooking station for outdoor dining. 
Our experts found the four burners give plenty of cooking power to handle even the biggest cookouts. The infrared side burner is perfect for searing meats and vegetables, while the rotisserie kit is suitable for slow-cooked meats. The grill comes with everything you need, including a rotisserie kit. 
The wine cooler and compact refrigerator provide storage for food and beverages, making it comfy to entertain friends for hours. The stainless steel construction ensures the grill will withstand different weather conditions.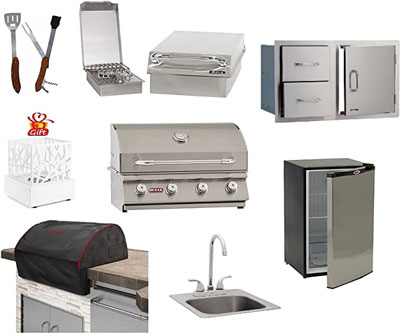 Our experts found the Bull Outlaw Grill Liquid Propane BBQ Package with Single Side Burner, Stainless Steel Sink, Grill Cover, Refrigerator, Door/Drawer Combo, and 5 in 1 BBQ Tool Set is an excellent choice for any outdoor cook. 
This grill package has everything you need to create the ultimate outdoor cooking experience. The stainless steel sink and refrigerator make food prep and storage a breeze, while the single-side burner offers additional cooking space. The door/drawer combo provides ample storage for all your cooking essentials. The included grill cover and 5 in 1 BBQ tool set are a bonus. The bundle includes a Bio-Ethanol Table-top Fire pit.
Conclusion 
Overall, building an outdoor kitchen is not only a practical decision, but it's also a great way to extend your living space and spice up your backyard. 
It's relatively easy to install and quite affordable, depending on the materials used. Moreover, creating an outdoor kitchen provides value to your property and adds comfort to entertaining guests. 
While there are minor drawbacks like upkeep and cost, these should not deter you from investing in this DIY project. With proper planning and help from qualified professionals, you can easily start constructing your own personal and unique outdoor kitchen. 
So get your hands dirty and start building - before you know it you'll be enjoying your outdoor kitchen.