Winter is here, and the best way to stay warm is with a steaming hot cup of coffee.  
Our experts will walk you through all the necessary steps to choose the best coffee machine for you - from discovering different types of machines available to understanding their features and deciding which one fits your needs best. 
So all caffeine addicts gather around and let's get started. 


The world of coffee machines
Coffee pod
A coffee pod is a single-serve, pre-measured packet of ground coffee beans from your favorite cup of joe.
There are some pros and cons to using coffee pods; for example coffee pods are designed with highly rated, one-cup brewing systems. They're becoming increasingly popular because they're simple and easy to use. 
However, some argue the pods are not as fresh or environmentally friendly because the packaging creates waste, and reusing the pod isn't an option. 
Ultimately it comes down to your lifestyle and needs - but if you're looking for a simple, no fuss way of making coffee, then pods may be perfect for you.
 
Moka pads 
The Moka pot is a great way to make your morning espresso. This coffee maker was invented in Italy and produces an intense, robust Italian-style espresso to make delicious cappuccino or latte macchiatos. It's easy to use, relatively affordable compared to other coffee makers, and perfect for those who want a quick and authentic cup of espresso. 
The downside is many users report their preferred flavor not coming through because the Moka pot tends to concentrate rather than bring out intricate flavors like those found in manual home brewing. 
Additionally, it requires thoroughly clean and meticulous attention so you have to take the necessary time for proper maintenance to get the best results.  

Manual grinders
Manual coffee grinders offer benefits for coffee connoisseurs and casual drinkers alike. 
These grinders are lightweight, easy to use, and often portable and perfect for camping trips or weekend outdoor getaways.
They also come at an affordable price compared to electric coffee grinders. 
Although you have to get used to the manual process, the adjustable grind size offered by most manual models results in consistent particle sizes that contribute to superior flavor extraction and taste. 
On the downside, manual grinders are slow, require more effort because they're powered by hand, and may not be able to produce ultra-fine espresso grounds. 

Traditional espresso machines 
Traditional espresso machines have remained a popular choice for many coffee drinkers due to their elegant simplicity and dependability. 
The machines are relatively simplistic compared to automatic or specialty pour-over models, but they still produce high-quality espresso shots. 
Although this type of espresso machine may deliver pleasing results, there are some definite benefits and downsides. 
For starters, traditional espresso machines require more skill to operate than other machines. It can be difficult for inexperienced baristas to achieve top-quality espresso without assistance. 
On the flip side, this type of coffee machine has fewer moving parts than automated models and is much less likely to succumb to wear and tear over time, resulting in lower maintenance costs. Ultimately it comes to personal preference. 

Bean to cup 
Bean to cup coffee machines are a lifesaver for those who take their caffeine consumption seriously. 
What's best about this type of machine is it gives users freshly ground coffee beans at the press of a button. The quality of the brews it creates is excellent, providing an unparalleled flavor experience no matter your preferred drink from cappuccinos to espressos to lattes. 
You can enjoy your favorite coffee at your local coffee place in the comfort of your home. 
The only downside comes from cost; these models require more maintenance to keep up and come with a much steeper price tag compared to traditional alternatives. 
So if you're looking for a top-notch coffee cup and an easy-to-use coffee machine, and your budget is on the high end, then this one is for you. 


Semi-automatic coffee machines
Semi-automatic coffee machines are a relatively inexpensive and simple way to make café-style coffee without a professional barista. These machines offer proportional, automatic shots of espresso courtesy of their integrated pump system, giving you an authentic Italian-style espresso for that perfect latte or cappuccino.
To handle these semi-automatic coffee machines, you need some knowledge of the brewing process to use them effectively.
It can be daunting for beginners or those who lack a basic understanding of how these machines work. 
Despite their ease of use (most come with customizable brewing settings), they use more electricity than manual models and can be liable to breakdowns due to their mechanical components and inbuilt circuits. 
If used correctly, the semi-automatic machines can make delicious coffees and provide more control over strength, temperature, pressure, and extraction times compared to other espresso makers.

Combination coffee machines 
Combination coffee machines offer a traditional brewer and an espresso maker, meaning you have two options for your preferred coffee in your own home, usually at a budget-friendly price.
Although it is convenient to gain the best of both these styles of coffee, there can also be some downsides. For example, since many combo models are entry-level options, they may lack the functionality of more advanced brewers. 
Additionally, you'll likely have to sacrifice quality to get an affordable price. This means you get inconsistent performance.
If you're in the market for an all-in-one machine and would rather have easy access to both traditional brewing and specialty drinks, then combination coffee makers might be worth the compromise.

Capsule coffee machines
Capsule coffee machines provide an incredibly convenient, intuitive, and fuss-free way of making coffee. All you need to do is insert the single-serve capsule, fill up the water tank, press a button, and the brewing starts.
These machines come in different settings for volume and strength control to help you craft your perfect cup.
On the other hand, these disposables cost more than buying basic machines and produce non-recyclable waste that is not environment-friendly or budget-friendly for many. 
Furthermore, refillable capsules and reusable filter baskets reduce the amount of plastic going into landfills but can be expensive in terms of the initial investment. 

What you need to know before buying 

Milk foam
Do you like extra foam with your coffee? Do your family or friends enjoy a milky drink like cappuccino or latte?
If the answer is yes, you should consider a coffee machine with a milk frothing feature. 
Some machines have your drink ready with the foam by just pushing a button and others offer it but you have to prepare it separately and add it to your cup.

Steam
This classic method of frothing milk is ideal if you like more control over how thick and creamy your foam will turn out; all you need is a burst of steam.
If you want your morning routine sped up, there are automated versions available too - just stick in the wand into any jug and get slurping on some delicious-tasting latte art in no time.
Frother 
The standalone frother is an upgrade from milk stirring and steaming. It is easy to use and perfect for making delicious and satisfying coffee drinks. Heats and stirs to transform milk into foam that's ideal for a comforting caffeinated beverage. 
Use pod machines for café style drinks in minutes and get quality flavors from the comfort of home. Plus, added convenience - it is often conveniently sold when purchasing pod systems. 
Automated built-in 
An automated frother takes your coffee to the next level. Bean-to-cup and ground/pod machines are equipped with this modern convenience, allowing you to enjoy delicious barista style coffee drinks from home. 
You pour milk into the dedicated container for a dreamy cloud of fluffy, milky foam, ready to top the perfect cappuccino or latte. 
In a few seconds it'll whip up lush and luxurious froth that goes hand-in-hand with all kinds of brewing scenarios - from bean-to-cup systems to ground coffee rigs or pods. 
Two great benefits are it is easy to use and no mess to clean up afterward.


Milk pods 
The milk pods allow you to enjoy a cup of creamy, frothy coffee with minimal effort.  It is a prepared UHT or powdered milk capsule compatible with several coffeemakers to dispense luxurious foam straight into your mug.
Personalization - memory feature 
Now, you can find coffee machines with memory functions. This feature allows you to personalize and adjust settings according to your taste preference.
The simple setup automatic option gives you your preferred coffee choice fast. 
Water tank 
How much coffee do you want to consume? If the answer is a lot of coffee then you need to get the big water tank, and you can find it in a liter size or 1.5 liters. 

When purchasing a coffee machine with a small water tank, you need to refill it every time you want more coffee.


Cleaning program
Avoid the hassle of a jammed machine: keep your coffee machine running smoothly with regular maintenance. Look for automatic cleaning programs and check if parts are easy to disassemble or safe in a dishwasher before washing them the old fashion way, manually.
Smart control 
The future is here with coffee machines that offer smart control. It will allow you to connect to the coffee machine via an app, access troubleshooting advice, and receive maintenance alerts.
Currently, only a few brands have a smart control so if you pick a coffee machine with it, it's important to read the offered warranty periods, the security measurements and the safety updates. 
4.4 out of 5 stars
5,430 ratings
Our experts described it as espresso on budget. It offers two cup servers at once and is compatible with a few cup sizes. The machine is relatively compact and simple to clean after use. With the manual milk frother, you get your foam just the way you like it for your latte or cappuccino. 
The coffee machine is designed to last long, that includes the boiler. It should give you steaming quilty coffee for years to come.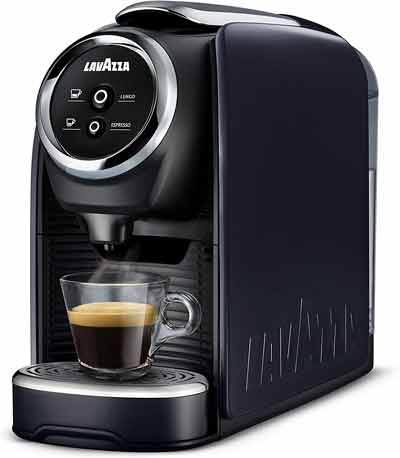 4.5 out of 5 stars
1,600 ratings
Our expert chose this Classy Mini for the best because its mini size doesn't compromise design and performance.  It is simple to use and offers two coffee selections, one automatic and one programmable for espresso and lungo. 
What else? You can adjust the height and fit a few sizes of cups and mugs. You get high-pressure and espresso or brew short or long, whatever you prefer.
Press the button, and every time you will get quality coffee in your home, not just for you but for your family and friends.  



4.7 out of 5 stars
15,539 ratings
Our experts selected this one as it offers coffee shop drinks in your home. You get 6 brew sizes and 4 brew-style options meaning you can go classic or rich, ice or specialty brew.
This ninja provides regular coffee and special drinks: from iced lattes to macchiato or cappuccino and no need for pods. 
Users confirmed they operate it daily for themselves or friends or family, and they are happy with it every single time. The only thing to pay attention to is to adjust the amount of ground to your liking or others so it's just right.

Conclusion 
So there you have it, caffeine addicts - this is the experts guide for picking the best coffee machine for your needs. 

Now you know what to look for and what to consider. Go get your coffee machine to have your daily fix. Enjoy!